Dear Friends,

What do we do when we have visitors in worship? How do we greet them? How do we make them feel welcome? On Wednesday, following our Fellowship Meal, I will offer a workshop called Christian Hospitality: Welcoming the Stranger to learn about the simple ways that we can be more welcoming to those who choose to worship with us.

On Sunday, I will continue with my sermon series Advent in Isaiah with the sermon "Peace." In our reading for Sunday, we find the vision of God's kingdom where even the enemies of the wild live together in peace.

During worship on Sunday, we are honored to host the Music City Bronze handbell quartet. Bring a friend to enjoy the music of these talented ringers as they lead us into Christmas.

Also, on Sunday, following worship, there will be a Deacons meeting followed by Officer Training for the newly elected Elders and Deacons. At 2:00 pm, the Lebanon Christmas Parade will roll down Main Street and the Deacons will be handing out Hot Chocolate to the parade watchers. Everyone is welcome to come and enjoy some cocoa.

I look forward to worshiping with you on Sunday.

Blessings,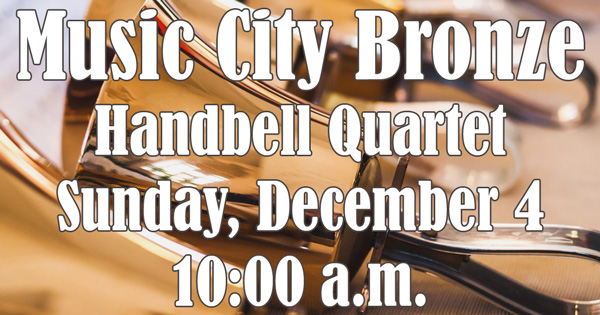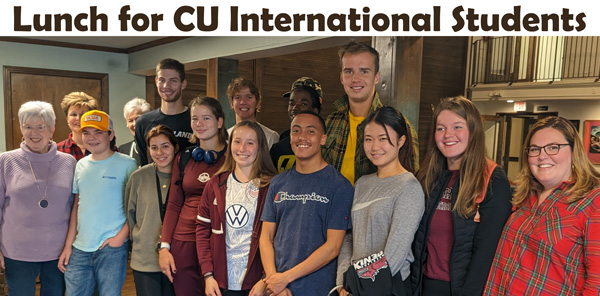 On the Friday following Thanksgiving, FPC hosted a lunch for the international students at Cumberland University who were unable to go home for the break. Jessica Fain and Kathy Adams coordinated the event along with members of the Kiwanis Club. Everyone had a great time and the meal was greatly appreciated.
SUPPORT YOUR CHURCH IN 2023
Music City Bronze Handbells
Worship on December 4

Christmas Cookie Caper
December 10

Deadline to Order Poinsettias
December 11

Presbyterian Women
Monday, December 12 at 10:30 a.m.

New Officer Training
Monday, December 12 from 5:00 to 7:00 p.m.

Bingo Night
Monday, December 12 at 7:00 p.m.

Men's Breakfast
Saturday, December 17 at 8:00 a.m.


---
Wednesday Fellowship Meals
December 7
Baked Ham, Twice Baked Mashed Potatoes, Broccoli Casserole, Cranberry Salad, Eggnog Cake

The meal will be followed by the workshop "Christian Hospitality: Welcoming the Stranger" led by Sherard Edington
Sunday, December 4, 2022


Second Sunday of Advent
Sermon: Advent in Isaiah: Peace
Scripture: Isaiah 11:1-10
Preacher: Rev. Sherard Edington
| | | |
| --- | --- | --- |
| 10:00 am | | • Sanctuary Worship with Music City Bronze |
| | | |
| --- | --- | --- |
| 11:15 am | | • Deacons' Meeting |
| | | |
| --- | --- | --- |
| 12:30 am | | • New Officer Training |
| | | |
| --- | --- | --- |
| 2:00 pm | | Christmas Parade with Hot Chocolate |

GET READY FOR COMPASSIONATE HANDS
The Compassionate Hands shelter season will begin December 1. FPC will be housing women on Thursday nights in the Annex, and we need volunteers to provide breakfast for Friday mornings and to do laundry. A sign-up sheet has been placed in the Fellowship Hall. If you are able to help with these tasks, please sign up for the week (or weeks) that work for you.
The following items are now being collected for the Shelter Season: • Disposable Razors
• Travel sized lotion, shampoo, conditioner, bar soap, bath gel
• Hot Hands
• Travel sized Kleenex packets
• Toothbrush
• Toothpaste
• Deodorant
• Laundry Pods
• Bottled Water
• Individual bags of chips, cookies, candy, etc.
• Granola Bars
• Hot Chocolate
• Hot Tea
• Kitchen Trash Bags
• Bathroom Trash Bags

POINSETTIAS
Poinsettias will once again decorate our sanctuary for the Christmas Eve worship service. If you would like to purchase a plant as a memorial or in honor of a loved one, please call or email the church office. The list of dedicated plants will be included in the bulletin on Sunday, December 18. The cost of each poinsettia is $18.50 and the deadline to place an order is Wednesday, December 11.
NEW OFFICER TRAINING
The first session of training for the newly elected officers will take place on Sunday, December 4, at 12:30 p.m. This is for the Deacons- and Elders-Elect.
CHRISTMAS COOKIE CAPER
On December 10, FPC will be delivering home-baked cookies to our shut-ins. If you would like to volunteer to bake a batch, please contact the church office and tell us the type of cookie you will be making (so we don't have duplicates). Please bring your cookies to the church by December 8.
HOT CHOCOLATE FOR THE PARADE
The Lebanon Christmas Parade will pass by our church on Sunday, December 4, at 2:00 p.m. The Deacons will set up in front of the church and give away hot chocolate during the parade. If you are not a Deacon, but would like to help, please contact Carol Turner. Everyone is welcome to stop by for some hot chocolate.
MUSIC CITY BRONZE ON DECEMBER 4
On Sunday, December 4, the Music City Bronze quartet will perform during our 10:00 a.m. worship service. Music City Bronze is Middle Tennessee's premier community handbell ensemble and was founded in 2006.
Transitions
Births, Deaths, Celebrations, Relocations, and more...
DECEMBER BIRTHDAYS
Paul Thaxton – 12/4
Jo Lovelace – 12/4
Dora Jeanne Zaharias – 12/5
Don Goodwin – 12/7
Bill Walker – 12/7
Lucy Hall – 12/9
Wyatt Thaxton – 12/9
Will Peyton – 12/10
Patricia Williams – 12/14
Robert Carroll – 12/19
Savannah Bone – 12/20
Richie Bouton – 12/21
Pete Welser – 12/21
Courtney Carter – 12/24
Chloe Foutch – 12/30

JANUARY BIRTHDAYS
Ida Mason – 1/2
Dot Jenkins – 1/6
Max Taylor – 1/7
David Allen – 1/8
Kristy Vincent – 1/8
Tim Harlan – 1/15
Aaron Frye – 1/16
Pat Bone – 1/17
Rylee Hill – 1/17
Kim Wall – 1/17
Sue Lutz – 1/20
Pat Hatcher – 1/21
Kate Bone – 1/25
Noah Carter – 1/25
Bob Frye – 1/26
Beau Frye – 1/26
Shiloh Chinyanga – 1/27
Janna Hood – 1/30

YOUTH GROUP (5th -12th grade)
• The Youth will meet at 6:00 p.m. each Wednesday that there is a Fellowship Meal. The next youth meeting will be December 7.

November Meeting
The Session held its monthly stated meeting on Sunday, November 13, at 11:15 a.m. Highlights of the meeting can be viewed here.
The next Session meeting is scheduled for Sunday, December 11 at 11:15 a.m.
The 10:00 o'clock Sanctuary service is streamed each Sunday on Zoom and Facebook. Detailed information on how to use Zoom can be found on the FPC webpage.
Zoom Dial-up number: 1-312-626-6799
meeting number: 959 167 376
password: 865280
Join Zoom meeting
Join Facebook Live