Dear Friends,

Everyone certainly had a great time at Wednesday's Church Picnic. We had perfect weather, and the food and fellowship were outstanding. Photos of the picnic can be viewed in the FPC website photo gallery. Our Wednesday Fellowship Meals resume this week. You can find this week's menu below.

Mark your calendars for Rise Against Hunger on October 14. We are 13% toward our goal of raising $4000 for this Meal Packaging Event. Please donate generously.

On Sunday, I will look at a story from Exodus and pose the question, "Why do we complain to God?"

I look forward to worshiping with you all on Sunday.

Blessings,
RISE AGAINST HUNGER - OCTOBER 14
LET'S PACKAGE 10,000 MEALS
It is that time of year again—time to get ready for Rise Against Hunger. This will be our 6th year participating with this wonderful event. Mark your calendar for Saturday October 14. We are going to package 10,000 meals to be shipped to a needy spot in our globe.


Also, this year, the Boy Scouts from Troop 434 will lend a hand and join us on October 14 to package food. It will be great fun.


Rise Against Hunger is an international organization with the audacious goal of eradicating hunger around the world. One of the means of doing this is by providing rice and vegetable-based meals to hunger spots.


To get ready for our Food Packaging Event, we must do two things:
1. We need you to sign up to be present on October 14. The more the merrier.
2. We need your donations to raise $4000 to cover the costs of these meals (about 40¢ per meal). The good news is that the pump has been primed and we've already raised 13% of our total!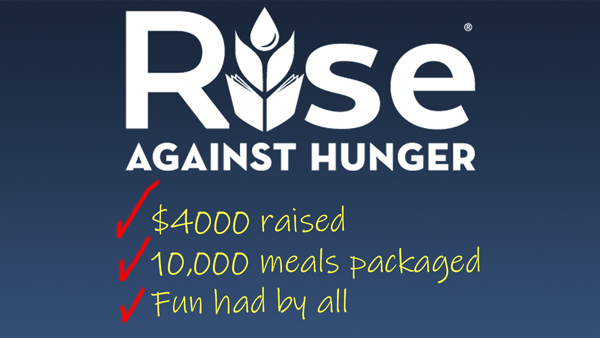 Four-Cents-A-Meal
Sunday, September 24

Prayer Group
Tuesday, September 26 at 4:00 p.m.

World Communion Sunday Breakfast
Sunday, October 1 at 9:00 a.m.

Presbyterian Women
Monday, October 9 at 10:30 a.m.

Bingo Night
Monday, October 16 at 7:00 p.m.


---
Sunday, September 24, 2023
25th Sunday in Ordinary Time
Sermon: The Complaint Department
Scripture: Exodus 17:1-7
Preacher: Rev. Sherard Edington
| | | |
| --- | --- | --- |
| 11:00 a.m. | | • Called Session Meeting (followed by Budget and Finance Committee meeting) |
Wednesday Fellowship Meals
Menu for September 27
Country Style Ribs
Squash Casserole
Cole Slaw
Pineapple Cake
CALLING ALL BAKERS
Sunday October 1 is World Communion Sunday and we will gather at 9 a.m. in the Fellowship Hall for an All-Church Breakfast. We will worship in the Fellowship Hall at 10 a.m. For Communion, we are calling on our bakers to bake up some loaves. The more exotic the better. Please contact the church office if you can contribute a loaf of your homemade dough.
PRAYER GROUP IS PRAYING FOR YOU
This week, the Tuesday Prayer Group took your prayer requests and prayed over each one. They continued praying over these all week. The Prayer Group meets on Tuesdays at 4 pm in the Chapel. Everyone is welcome to join us. Please make the effort to come and lift up our church in prayer.
LAY READERS NEEDED
If you would like to be a Lay Reader for Sanctuary Worship, please contact the church office.
CARDS FOR SHUT-INS NEEDED
We are in need of "Thinking of You" cards that we send to our shut-ins. Bring your boxes of new cards to the church office.
Transitions
Births, Deaths, Celebrations, Relocations, and more...
IT'S A BOY!
Congratulations to Joe and Kathy Adams on the birth of a grandson. William Nicholas Adams was born to Laura and Will Adams on September 20. Mother and son are doing well.
SEPTEMBER BIRTHDAYS
Chuck Cowden – 9/21
Angela Hodges – 9/22
Cayman Welser – 9/24
Amy Adams Harpalani – 9/28

OCTOBER BIRTHDAYS
Sara Beth Bouton – 10/3
Pat Santilli – 10/4
Jimmy Carroll – 10/14
Ian White – 10/19
Travis Carroll – 10/20
Scott Williams – 10/20
J.C. George – 10/21
Sue Abernathy – 10/27
Nancy Gebhardt – 10/27
Darryl Nettles – 10/31


GUATEMALA HUNGER RELIEF
Normally, this is the rainy season in the Petén region of Guatemala, where our Presbytery has a partnership with the Presbytery of the Petén. This year, however, has witnessed a severe drought. Many of the Presbyterians in the Petén are subsistence farmers and their crops have failed. They are in desperate need of money to purchase food. The Guatemala Task Force has set a goal to raise $3,000, which we would like to send in the next week. Bring your donations to the church office.
YOUTH GROUP (5th -12th grade)
• The Youth will begin meeting on Wednesday September 20. More information to follow.

• Rev. Edington is teaching the Youth Sunday School Class.

September Meeting
The Session held its monthly stated meeting on Sunday, September 10 at 11:15 a.m. Highlights of the meeting can be viewed here.
The next Session meeting is scheduled for Sunday, October 8 at 11:15 a.m.
The 10:00 o'clock Sanctuary service is streamed each Sunday on Zoom and Facebook. Detailed information on how to use Zoom can be found on the FPC webpage.
Zoom Dial-up number: 1-312-626-6799
meeting number: 959 167 376
password: 865280
Join Zoom meeting
Join Facebook Live