---
The Pastor's Pen
---
Dear Friends,
Saturday morning at 8:00 a.m. is our Men's Breakfast. ALL men should plan to attend for great food and fellowship.
On Sunday, the Outreach Committee is sponsoring the Guatemala Bake Sale. It's going to be cold on Saturday, so just plan to stay in and bake. Then, on Sunday, you can buy!
Also, on Sunday, we will hold the Ordination and Installation of Officers at the Sanctuary Service. This is always a meaningful part of our year.
Blessings,
---
Upcoming at FPC
---

Bible Study with Michael
Thursday, January 20 at 6:00 p.m.

Men's Breakfast
Saturday, January 22 at

Officer Ordination and Installation
Sunday, January 23

Guatemala Bake Sale
Sunday, January 23

Bible Study with Michael
Thursday, January 27 at 6:00 p.m.

Wednesday Fellowship Meal (potluck)
Wednesday, February 2 at 6:00 p.m.

Wednesday Fellowship Meal
Wednesday, February 9 at 6:00 p.m.

Presbyterian Women
Monday, February 14 at 10:30 a.m.

Spring Speakers Series
Sunday, February 27 at 6:00 p.m.


---
Worshiping Together
---



Sunday, January 23, 2022


Third Sunday in Ordinary Time

Sermon: The Bible and Sexual Difference
No. 4 in the series "The Birds, the Bees, and the Bible"
Preacher: Michael Schulte, seminarian


8:45 am
• Chapel Worship
10:00 am
• Sunday School
11:00 am
• Sanctuary Worship
---
Parish News
---
Men's Breakfast on Saturday at 8 am
All men are invited to a Men's Breakfast on Saturday at 8:00 a.m. Jack Emmert will be back at the griddle dishing up his usual delicious fare. Bring a friend.
WOMEN IN THE CHURCH
In preparation for his sermon this past Sunday on the role of women in the church, Michael reached out to some women in our congregation and asked them to share their experiences about being part of a congregation where women are welcomed at all levels of leadership. Their responses can be read here.
ORGANIST SEARCH
The search for someone to fill the position of Church Organist is underway. An ad has been placed in the newsletter of the Nashville Chapter of the American Guild of Organists. Branson Clark has been making inquiries with the various associations of school musicians. Meanwhile, we have interim organists lined up through February.
---
Transitions
Births, Deaths, Celebrations, Relocations, and more...
---
JANUARY BIRTHDAYS


Ida Mason – 1/2
Dot Jenkins – 1/6
Max Taylor – 1/7
Kristy Vincent – 1/8
David Allen – 1/8
Tim Harlan – 1/15
Pat Bone – 1/17
Rylee Hill – 1/17
Kim Wall – 1/17
Sue Lutz – 1/20
Pat Hatcher – 1/21
Kate Bone – 1/25
Noah Carter – 1/25
Bob Frye – 1/26
Beau Frye – 1/26
Shiloh Chinyanga – 1/27
Janna Hood – 1/30


FEBRUARY BIRTHDAYS


Becky Harm – 2/1
Levi Frye – 2/4
Ann Walsh – 2/4
Owen Bone – 2/5
Robin Emmert – 2/5
Victoria Walker – 2/7
Marcia Slagle – 2/11
Fred Lutz – 2/13
David Foutch – 2/15
Brenda Goodwin – 2/15
Lois Ann Wauford – 2/15
Courtney Edington (Sr.) – 2/17
Cal Clark – 2/17
Madeline Walker – 2/19
Janice Durnberger – 2/20
Marie Farley – 2/20
Linda Gatlin – 2/25
Sarah Harris – 2/26
Sally Thaxton – 2/26
Jamie Peyton – 2/26
Charles Chasse – 2/27


YOUTH GROUP


Youth Group meets each Wednesday from 6:00 - 7:30 p.m. Join us for food, fellowship, and studying scripture. Friends are always welcome. Here are the dates for January and February.
• January 26
• February 2, 9, 16, and 23


SOUPER BOWL OF CARING


As the NFL playoffs convene, so does our annual Souper Bowl of Caring Food Drive. This drive collects food for the Wilson County Community Help Center and our goal this year is to collect 1,000 food items. You can donate your food based on the team you believe will win the Super Bowl (monetary donations are also accepted). When a team loses, their food will be added to the team to whom they lost. On Super Bowl Sunday (February 13), ONE team will claim the food drive victory. Donate food Monday through Friday during regular church hours or during Sunday worship.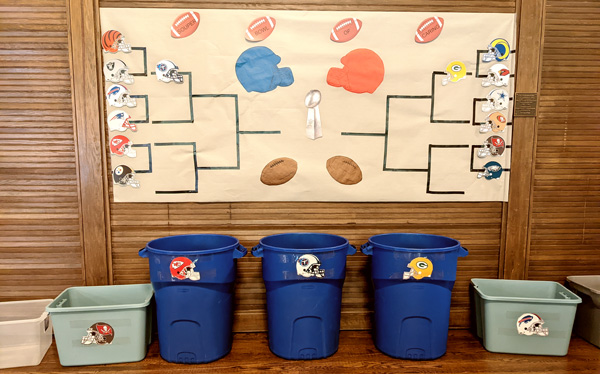 GUATEMALA BAKE SALE (WEEK 2)
The Bake Sale (postponed from Sunday) will be held this Sunday (January 23) to raise money for medical supplies for the Guatemala Mission Trip. In March, five people from our congregation will join a team from Presbyterians from Middle Tennesee to go to Guatemala. Please donate baked goods (and purchase them, too). So far, we have raised $211 in purchases and donations toward the goal of $1000.
BREAKFAST PROVIDERS NEEDED
The Compassionate Hands ministry needs volunteers to provide cold breakfasts for Sunday mornings. The breakfasts are simple--yogurt, granola bar, muffins, etc. The breakfasts can be left at the Annex on Saturdays. A signup sheet is in the hallway. If you have any questions contact Adrienne Johnson or Robin Orewiler.
FOOD FUND
As you are aware, each month the church donates $250 of food to the Community Help Center. This food is not paid for out of the church's budget but from a separate fund used specifically to feed the hungry in our community. By the end of January, this fund will be fully depleted. If you would like to contribute to the continuation of this important ministry, please send a check to the church and note "For Food Fund". Thank you. Catherine Hanson
COMPASSIONATE HANDS VOLUNTEERS
Breakfast
Jan. 22 - C. Hanson
Jan. 29 - C. Hanson
Feb. 5 - W & S Patton
Feb. 12 - R & J Emmert
Laundry
Jan. 24 - MA Trail
Jan. 31 - MA Trail
Feb. 7 - MA Trail
Feb. 14 - MA Trail


January Meeting
The Session held its annual combined Meeting on Sunday, January 9 at 5:00 p.m. Highlights of the meeting can be viewed here.

Examination of Officers
• Newly elected officers were examined. Ordination and installation will be held on Sunday, January 16 at 9:45 a.m. and 11:00 a.m.
February Presbytery Meeting
• Max Carter and Jessica Fain were selected as commissioners to the February 5 Presbytery meeting.
Clerks Report
• The Session approved the 2020 Session Records Review to be submitted to the Presbytery.
Building and Grounds Committee
• Outgoing Chairman David Howell thanked the members of the committee (Bob Orewiler, Bruce Taylor, Allen Vance, and posthumously Kelly Roy) for their continued service to the church. He also recognized the members of the Renovation Committee for their work.
Congregational Care Committee
• A covered dish dinner is scheduled for Wednesday, January 12.

The next Session meeting is scheduled for Sunday, February 13 at 12:15 p.m.
---
Live Stream Worship
---

The 11:00 o'clock Sanctuary service is streamed each Sunday on Zoom and Facebook. Detailed information on how to use Zoom can be found on the FPC webpage. Our Facebook page can be viewed here.

Zoom Dial-up number: 1-312-626-6799

Join Zoom meeting
meeting number: 959 167 376
password: 865280